Active Tenders
of

Canara Bank
in

Telangana
Active Tenders

of

Canara Bank

in

Telangana
0 of Canara Bank in Telangana found.
View complete tender details and tender notices (NIT) for FREE. Get tender corrigendum updates. Download tender documents. Sorry, no results found!
Please check the spelling or try searching for something else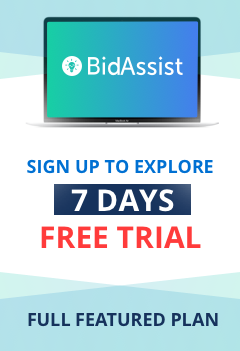 7 DAY
Telangana is the 29th state of the Republic of India. It was formed on 2nd June 2014 after getting separated from Hyderabad. The newly formed state has a rich and glorious history from the past 2000 years, many mesolithic structures like cists, cairns have been discovered in the regions of Telangana.With 33 Districts, 142 municipalities, six municipal corporations and more than 12000-gram panchayats, Telangana is set to expand and develop as the most proficient state primarily focused on infrastructure development, education enrichment and health fulfilment.Central government provides excellent support for the development of this state, based on all the revenue distribution. The Telangana government floats tenders in various department.The application of E tenders in Telangana varies according to the type of Tenders issued. Make sure to check the required deadline and the time of opening and closing of the tenders at our website. Bid Assist have arranged a list of top 4 organisations which frequently releases tenders under the Government of Telangana.The list is given below.Municipalities,Telangana Forest Department,Panchayat Raj and Rural Development,Archaeology and Museum.Municipalities- Telangana-Having 142 municipalities in Telangana, it needs a lot of work to designed, structured and maintained to provide a smooth functioning local body government. Tenders are primarily issued for the construction of local help centres, parks, libraries, health centres, schools, marketplaces, and recruiting workforce. You can find the details of the tenders issued by this department on our website.Telangana Forest Department-Telangana has 11 wildlife sanctuaries, three national parks and one zoo, the forest, the principles conservator of the forest is the person in charge of the development and the preservation of the forest in Telangana.E tenders of Telangana are issued for the expansion and maintenance of the forest. This mainly includes installation of biometric system for plantation workers, removal of the fallen trees, extracting rubber from the trees, extracting Nilgiri oil, cutting down firewood and other such works. You can find more detailed information about this Telangana e tenders on our website, Bidassist.Panchayat Raj and Rural Development-The state of Telangana caters more than 12000-gram panchayats. This gram panchayats manages the rural development of the villages, look after the ground-level work like water supply, sanitation and cleanliness. Panchayat Raj and rural development issues e tenders under Telangana government for the work of rural housing construction, schools, and mobility. The organisation also requires the material supplying unit like construction material, school stationery materials, sanitation products, etc. To get more insights on the tenders floated by the rural development organisation, follow our website.Archaeology and Museum-The department of heritage is the organisation which manages the preservation and the restoration of all the old and rich historical monuments in Telangana.Tenders are issued to complete the restoration work, preservation of Charminar, Warangal fort, Alampur temple. e-tenders in Telangana are also issued for supplying raw materials and workforce for the speedy recovery of the rich cultural heritage.To know the detailed information about the e-tenders in Telangana, registration and documentation of the e-tender filing process, we have a one-click solution for you-Bid Assist!
Canara Bank is one of the most popular banks for its best customer-based services, which was endowed in a little city in Mangalore, Karnataka, by Shri Ammembal Subba Rao Pai. In July 1906, he established this bank with his magnificent visionary and philanthropist skill. So, in the year 1969, after the nationalization of the bank, it had to undergo a mind-blowing development. Since then, Canara Bank has sustained a continuous growth phase over hundreds of years of its occurrence in 2006 and kept attaining a privileged position on a national level. Such an eventful journey of the bank gave rise to the most memorable milestones which made it stand in the topmost rank among all the other Indian Banks. One of the recent accomplishments of Canara Bank was in December 2019, where the bank highlighted its domestic presence giving rise to more than 6328 branches and 8873 ATMs across an extensive geographical section. The bank has continuously embraced several IT initiatives for customer convenience, out of which creating a Digital Branch is the latest update. Canara Bank opened digital branches across several places like Bangalore, Chennai, Delhi, Mumbai, Indore and even Chandigarh. These branches consist of fully automated facilities, robotic assistance for customers to open accounts and initiate the transactions. It has got 182 E-lounges that are operational in some of the selected centers, ATM, Cash Deposit Kiosk with the voice-assisted system, Cheque Deposit Kiosk, Internet Banking, Passbook printing Kiosk and a lot more. Internet banking has been enabled to their customers by sending their user ID and password through SMS at the time of registration. Other banking facilities include IMPS, opening a deposit account, submission of the 15G, applying for the house loan, education loan, debit card services, request to get a locker, offline OTP, and a lot more other facilities. Canara Bank is not just a commercial banking solution, but it has also paved its way in performing various corporate social responsibilities like serving for the national priorities, promoting rural development, enhancing rural self-employment through numerous training institutes. The bank has attained a topmost position not only as the financial heart of the community, but it has also helped to improve the economic condition of people. To achieve success, Canara Bank issue tenders on numerous prospects to which you can apply if you think you are eligible. The Canara Bank Tenders are issued to rectify and improve a lot of things like implanting some printers, providing human resources for IT services, or even selling a particular property. But keeping a track on these updates can be difficult. So you must download the BidAssist app and log in to get notifications on each Canara Bank Tender 2020 updates. You can also choose a suitable yearly plan to get access to unlimited tender browsing.