Active Tenders
of

Canara Bank
in

Uttar Pradesh
Active Tenders

of

Canara Bank

in

Uttar Pradesh
0 of Canara Bank in Uttar Pradesh found.
View complete tender details and tender notices (NIT) for FREE. Get tender corrigendum updates. Download tender documents. Sorry, no results found!
Please check the spelling or try searching for something else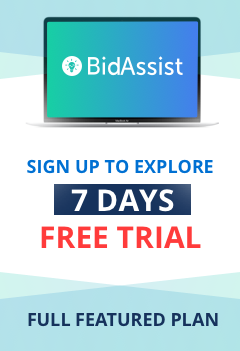 7 DAY
Uttar Pradesh is one of the most populated states in India which is located in the northern part of the country. This state has more than 70 divisions and is home to the Taj Mahal, river Yamuna, river Ganga, Fatehpur Sikri, Agra Fort, and many other distractions. All of this roughly translated means that there is a lot that needs to be done in this state. If you also wish to contribute to the work and maintenance which is done in Uttar Pradesh then it might be a good idea for you to look into Uttar Pradesh tenders. There are a number of tenders that are constantly floating around. The duration of the application procedure for any random UP tender can last anywhere from 1 to 2 days. This means that you need to be constantly aware of the ongoing tenders.When it comes to eprocurement UP then we at Bid Assist are one of the best and most reputed names which you will come across. We make sure to keep all of your updated about every single e tender UP which might have currently entered the market. We always have a comprehensive and thorough list prepared of UP eTenders.According to the official sources, some of the most prominently available and active eprocurement UP providers are mentioned below.Directorate of Local Bodies UP,Panchayati Raj Department,UP Power Transmission Corporate Limited (Operation),UP Rajya Vidyut Utpadan Nigam Ltd,Purvanchal Vidyut Vitran Nigam Limited Varanasi.Directorate of Local Bodies UP-The Directorate of Local Bodies is an integral department of the Uttar Pradesh government which was set up in 1971 and came fully into existence in 1973. The primary function of this department is to closely monitor all the bodies of government in terms of their functioning, proper fund management, and overall financial condition. This department puts the most number of tenders. And currently, there are over 1220 active Uttar Pradesh tenders available.Panchayati Raj Department-The Panchayati Raj Department was formed with the main aim of providing a functional and strong medium for the rural masses so that they can also participate equally in the democracy of our country. This department works in collaboration for various other departments like agriculture and finance to ensure that the rural parts of Uttar Pradesh are able to effectively develop. If you feel just as strongly for this cause then you can also select the right UP tender for you - which is provided by this department - from a total of over 620 tenders.UP Power Transmission Corporate Limited (Operation)-The UP Power Transmission Corporate Limited (Operation) was incorporated in 2006. And as the name suggests, this department serves the main purpose of acquiring, establishing, managing, and modernizing various electrical transmission lines and networks with the help of various devices and equipment. There are currently around 445 active tenders that have been put forward by this department.UP Rajya Vidyut Utpadan Nigam Ltd-The UP Rajya Vidyut Utpadan Nigam Ltd is a completely owned department of the Uttar Pradesh government. This department is responsible for effectively generating, transmitting, and distributing power throughout the entire state of Uttar Pradesh. This means that this department needs a lot of help which is apparent from the fact that there are over 350 active tenders present.Purvanchal Vidyut Vitran Nigam Limited Varanasi-The Purvanchal Vidyut Vitran Nigam Limited Varanasi is another department that is responsible for the proper distribution of power. However, the only difference is that this department works to only serve the eastern areas of Uttar Pradesh. According to the official website, there are around 200 active tenders present for you to grab.To find about other exciting tender opportunities in Uttar Pradesh, head on to Bid Assist now!
Canara Bank is one of the most popular banks for its best customer-based services, which was endowed in a little city in Mangalore, Karnataka, by Shri Ammembal Subba Rao Pai. In July 1906, he established this bank with his magnificent visionary and philanthropist skill. So, in the year 1969, after the nationalization of the bank, it had to undergo a mind-blowing development. Since then, Canara Bank has sustained a continuous growth phase over hundreds of years of its occurrence in 2006 and kept attaining a privileged position on a national level. Such an eventful journey of the bank gave rise to the most memorable milestones which made it stand in the topmost rank among all the other Indian Banks. One of the recent accomplishments of Canara Bank was in December 2019, where the bank highlighted its domestic presence giving rise to more than 6328 branches and 8873 ATMs across an extensive geographical section. The bank has continuously embraced several IT initiatives for customer convenience, out of which creating a Digital Branch is the latest update. Canara Bank opened digital branches across several places like Bangalore, Chennai, Delhi, Mumbai, Indore and even Chandigarh. These branches consist of fully automated facilities, robotic assistance for customers to open accounts and initiate the transactions. It has got 182 E-lounges that are operational in some of the selected centers, ATM, Cash Deposit Kiosk with the voice-assisted system, Cheque Deposit Kiosk, Internet Banking, Passbook printing Kiosk and a lot more. Internet banking has been enabled to their customers by sending their user ID and password through SMS at the time of registration. Other banking facilities include IMPS, opening a deposit account, submission of the 15G, applying for the house loan, education loan, debit card services, request to get a locker, offline OTP, and a lot more other facilities. Canara Bank is not just a commercial banking solution, but it has also paved its way in performing various corporate social responsibilities like serving for the national priorities, promoting rural development, enhancing rural self-employment through numerous training institutes. The bank has attained a topmost position not only as the financial heart of the community, but it has also helped to improve the economic condition of people. To achieve success, Canara Bank issue tenders on numerous prospects to which you can apply if you think you are eligible. The Canara Bank Tenders are issued to rectify and improve a lot of things like implanting some printers, providing human resources for IT services, or even selling a particular property. But keeping a track on these updates can be difficult. So you must download the BidAssist app and log in to get notifications on each Canara Bank Tender 2020 updates. You can also choose a suitable yearly plan to get access to unlimited tender browsing.