Active Tenders
of

Food Corporation Of India
in

Haryana
Active Tenders

of

Food Corporation Of India

in

Haryana
15 of Food Corporation Of India in Haryana found.
View complete tender details and tender notices (NIT) for FREE. Get tender corrigendum updates. Download tender documents.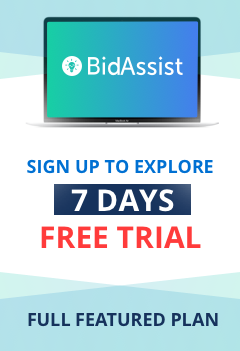 7 DAY
Haryana is considered as one of the wealthiest states in India, with the abundance of the agro production industry and automobile industries, the state is fulfilled with a significant amount of revenue. The state government divides its e-procurement of Haryana in two distinct parts. Haryana Government and Haryana Board Corporation.This two parts manages all the developmental work in the state of Haryana and also helps to run a smooth administration.We have compiled some of the best organisation under these two distinct parts which will help you to make a concise decision on which tender to work on:Below is the list of those top organisation which releases the e-tender notices for Haryana government more frequently.National Health Mission Haryana,Haryana Rail Infrastructure Development Corporation,Urban Local Bodies,PW(B&R)National Health Mission Haryana-The National Health Mission (NHM) focuses on the success of universal access to equitable, affordable & quality health care services that are responsive and accountable for the needs of people.E Tenders in Haryana are issued for supplying electronic cellphones and telephones to the health centres for communication facility.Tenders are also issued for hiring taxies as the Haryana is one of the largest manufacturers of automobiles.To know more information about what tenders are issued by the national health mission, and other Haryana tenders. Subscribe to the premium notifications of Bid Assist to know more.Haryana Rail Infrastructure Development Corporation-HRIDC looks after the development and expansion of the rail routes in the state of Haryana. The government of Haryana signed a joint venture agreement with the ministry of railways for developing the state railway infrastructure.Tenders are issued for supplying of raw material for the construction of stations, electrification line, railway barricade, fences, railway crossings. Some e tenders under Haryana Government also include for the enhancement of the passenger services like canteen management, passenger help centres etc.To know more about the Haryana tenders from this department, log in to Bid assist now!Urban Local Bodies-The urban local bodies are responsible for carrying out the functions of tax and financial administration, town planning, infrastructure development, public health and sanitation and environment protection program.Tenders are floated for making the RCC drain covers, Footpaths, Schools, Sewerage lines, compost pits, Supplying workforce for cleanliness and sanitation work. To get more in-depth information about the Haryana tenders received from the urban local bodies, log on to bid assist.PW (B&R)-Public works department of Haryana especially looks after the buildings and road development.They mainly focus on making governmental infrastructures, public places like parks, auditoriums, health centres, community hall, Government offices, footpaths, big and small roads, colony streets, etc.Tenders are floated for supplying construction materials like cement, sand, steel, tools and other materials.E Tenders under Haryana Government are also floated for renting construction equipment like bulldozers, trailers, cement mixer machines etc.If you want to get full insights on what does PW( b and r) department issues, you should log on to bid assist and get all the information from Bid assist official website by subscribing to our notification and alerts.
The Food Corporation of India was created under the Food Corporations Act 1964. The main objectives are to fulfil the following works and ideas of the Food Policy like Compelling value bolster operations for shielding the interests of the farmers, Circulation of foodgrains all through the nation for public distribution machinery, Keeping up a satisfactory degree of operational and stock of foodgrains to guarantee National Food Security. Since its commencement, FCI has assumed a significant job in India's achievement in changing the crisis the executives oriented food and nourishment security into a steady security system.In its 50 years of administration to the country, FCI has assumed a significant job in India's achievement in changing the crisis the executives oriented food security into a steady security system. FCI's Objectives are: To give farmers profitable costs, To make food grains accessible at sensible prices, especially to a defenceless section of the general public, To keep up support stocks as a measure of Food Security, To intercede in the market for value adjustment. FCI also embodies its Vision and Mission for the betterment of the food value in the nation. It helps in Guaranteeing Food Security for residents of the nation and Proficient acquirement at Minimum Support Price (MSP), stockpiling and dispersion of nourishment grains and guaranteeing accessibility of nourishment grains and sugar through fitting arrangement instrument; including support of cradle supplies of nourishment grains. Making grains available at sensible costs, particularly to the powerless task helpless sections of the general public under PDS. It is perhaps the most significant enterprise in India and most likely the biggest supply chain the board in Asia (second in the world). It works through five Zonal workplaces and 24 regionwise workplaces. Each and Every year, the Food Corporation of India (FCI) purchases around 15 to 20 per cent of India's wheat yield and 12 to 15 percent of its rice yield. The buys are produced using the farmers at the rates pronounced by the Government of India. This rate is called MSP (Minimum Support Price). There is no restriction for acquisition regarding volume, and any amount can be secured by FCI (Food Corporation of India) given the stock fulfils FAQ (Fair Average Quality) determinations concerning FCI. Nourishment Corporation of India works through its Depot headed by Manager (Depot). Each region has scarcely any depots to oblige the prerequisite of the region's rural populace. The depot reports to the Divisional Office, which is headed by an Assistant General Manager. Collaborator General Manager (Quality Control) is likewise posted who is taking care of the QC work that incorporates guaranteeing the nourishment grains are without bugs and exposed to standard nuisance control measures. Under Area Manager control, there are managers for every single section. FCI tenders are issued mostly for wheat, and these FCI Wheat tenders are one of the largest issued tenders from this department. To know more about FCI tenders and FCI wheat tenders, log on to BidAssist and get to know all the details regarding this procurement. You can also subscribe to its premium subscription and stay ahead of all your competitors by getting a headstart in filing your tender.