Active Tenders
of

Food Corporation Of India
in

Bihar
Active Tenders

of

Food Corporation Of India

in

Bihar
5 of Food Corporation Of India in Bihar found.
View complete tender details and tender notices (NIT) for FREE. Get tender corrigendum updates. Download tender documents.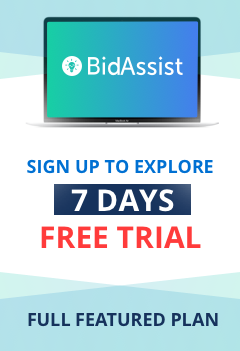 7 DAY
Bihar is the twelfth largest state which is located in Eastern India. This state is home to the river Ganges, many beautiful temples, and other monuments. In classical and ancient India, Bihar was not just considered the center of learning but it was also a popular center for culture and power. On top of that, almost 58% of Bihar's population is comprised of people below the age of 25! That being considered, it goes without saying that the Bihar government would need some extra help to run the state. If you want to jump in and help the government then what better way to do that then to apply for the e-tenders which are floating online. We at Bid Assist offer you all the latest information related eprocurement Bihar updates all at a single place! We on our page make sure to provide you with important information related to every single Bihar tender. So, all you need to do is to check out our page regularly. It cannot get simpler than that! Currently, there are some prominent departments that are providing the most eprocurement Bihar opportunities. The application process for these eproc Bihar usually lasts between 2-3 days. The application deadline varies according to the type of tenders issued. Make sure to check the application time for Eproc Bihar Tenders at our website. Some of the eproc Bihar departments are:Water Resource Department, Patna Municipal Corporation (PMC).Public Health Engineering Department,Planning and Development Department Local Area Engineering Organization,Road Construction Department. Water Resource Department-The Water Resource Department of Bihar was formerly known as the Irrigation Department. This is one of the biggest government establishments in the state which serves the purpose of protecting the right of the state which is in relation to sharing water from various interstate rivers and basins. This department is also responsible for draining waterlogged areas, restoring lost irrigation potential, constructing and maintaining embankments and other important flood protection means. Currently, the Water Resource Department has around 24 active Bihar tender.Patna Municipal Corporation (PMC)-The Patna Municipal Corporation was established in 1952. As the name indicates, this civic body serves the primary purpose of governing Patna, which is the capital city of Bihar. There are various departments which also fall under the governing of this department. There are around 19 active Bihar tenders from the PMC. Most of these tenders are for draining and UG work, construction of filing work, construction of around tree brick and painting work, and the construction of rainwater harvesting recharge pits.Public Health Engineering Department-The Public Health Engineering Department is another important part of the government which is currently running various rural drinking water programmes. This department is working to ensure that everybody has access to safe drinking water, clean water is supplied to different rural areas, and that sanitation and water supply sectors are reformed. Under this department, there are 6 active Bihar tender which you can apply to right now! Planning and Development Department Local Area Engineering Organization-The Planning and Development Department Local Area Engineering Organization works with a number of other boards to make sure that the entire state of Bihar is able to develop in a systematic and positive manner. If you are interested in applying to tenders that require the development of community centers and repairing house connections then they currently have 3 active tenders for you to apply to.Road Construction Department-As the name indicates, the Road Construction Department wishes to achieve its main objectives of planning and designing road networks that connect rural and urban areas effectively, to properly manage the build roads, and to provide constant management to roads and bridges. If this is something that you find interesting then apply to some of their floating tenders now! There are many other organizations that provide tenders in the state of Bihar. So, if you want to find more about them then head on to Bid Assist right now!
The Food Corporation of India was created under the Food Corporations Act 1964. The main objectives are to fulfil the following works and ideas of the Food Policy like Compelling value bolster operations for shielding the interests of the farmers, Circulation of foodgrains all through the nation for public distribution machinery, Keeping up a satisfactory degree of operational and stock of foodgrains to guarantee National Food Security. Since its commencement, FCI has assumed a significant job in India's achievement in changing the crisis the executives oriented food and nourishment security into a steady security system.In its 50 years of administration to the country, FCI has assumed a significant job in India's achievement in changing the crisis the executives oriented food security into a steady security system. FCI's Objectives are: To give farmers profitable costs, To make food grains accessible at sensible prices, especially to a defenceless section of the general public, To keep up support stocks as a measure of Food Security, To intercede in the market for value adjustment. FCI also embodies its Vision and Mission for the betterment of the food value in the nation. It helps in Guaranteeing Food Security for residents of the nation and Proficient acquirement at Minimum Support Price (MSP), stockpiling and dispersion of nourishment grains and guaranteeing accessibility of nourishment grains and sugar through fitting arrangement instrument; including support of cradle supplies of nourishment grains. Making grains available at sensible costs, particularly to the powerless task helpless sections of the general public under PDS. It is perhaps the most significant enterprise in India and most likely the biggest supply chain the board in Asia (second in the world). It works through five Zonal workplaces and 24 regionwise workplaces. Each and Every year, the Food Corporation of India (FCI) purchases around 15 to 20 per cent of India's wheat yield and 12 to 15 percent of its rice yield. The buys are produced using the farmers at the rates pronounced by the Government of India. This rate is called MSP (Minimum Support Price). There is no restriction for acquisition regarding volume, and any amount can be secured by FCI (Food Corporation of India) given the stock fulfils FAQ (Fair Average Quality) determinations concerning FCI. Nourishment Corporation of India works through its Depot headed by Manager (Depot). Each region has scarcely any depots to oblige the prerequisite of the region's rural populace. The depot reports to the Divisional Office, which is headed by an Assistant General Manager. Collaborator General Manager (Quality Control) is likewise posted who is taking care of the QC work that incorporates guaranteeing the nourishment grains are without bugs and exposed to standard nuisance control measures. Under Area Manager control, there are managers for every single section. FCI tenders are issued mostly for wheat, and these FCI Wheat tenders are one of the largest issued tenders from this department. To know more about FCI tenders and FCI wheat tenders, log on to BidAssist and get to know all the details regarding this procurement. You can also subscribe to its premium subscription and stay ahead of all your competitors by getting a headstart in filing your tender.