Active Tenders
of

Airports Authority Of India
in

Bihar
Active Tenders

of

Airports Authority Of India

in

Bihar
3 of Airports Authority Of India in Bihar found.
View complete tender details and tender notices (NIT) for FREE. Get tender corrigendum updates. Download tender documents.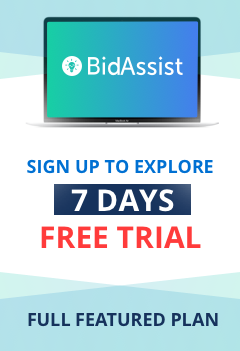 7 DAY
Bihar is the twelfth largest state which is located in Eastern India. This state is home to the river Ganges, many beautiful temples, and other monuments. In classical and ancient India, Bihar was not just considered the center of learning but it was also a popular center for culture and power. On top of that, almost 58% of Bihar's population is comprised of people below the age of 25! That being considered, it goes without saying that the Bihar government would need some extra help to run the state. If you want to jump in and help the government then what better way to do that then to apply for the e-tenders which are floating online. We at Bid Assist offer you all the latest information related eprocurement Bihar updates all at a single place! We on our page make sure to provide you with important information related to every single Bihar tender. So, all you need to do is to check out our page regularly. It cannot get simpler than that! Currently, there are some prominent departments that are providing the most eprocurement Bihar opportunities. The application process for these eproc Bihar usually lasts between 2-3 days. The application deadline varies according to the type of tenders issued. Make sure to check the application time for Eproc Bihar Tenders at our website. Some of the eproc Bihar departments are:Water Resource Department, Patna Municipal Corporation (PMC).Public Health Engineering Department,Planning and Development Department Local Area Engineering Organization,Road Construction Department. Water Resource Department-The Water Resource Department of Bihar was formerly known as the Irrigation Department. This is one of the biggest government establishments in the state which serves the purpose of protecting the right of the state which is in relation to sharing water from various interstate rivers and basins. This department is also responsible for draining waterlogged areas, restoring lost irrigation potential, constructing and maintaining embankments and other important flood protection means. Currently, the Water Resource Department has around 24 active Bihar tender.Patna Municipal Corporation (PMC)-The Patna Municipal Corporation was established in 1952. As the name indicates, this civic body serves the primary purpose of governing Patna, which is the capital city of Bihar. There are various departments which also fall under the governing of this department. There are around 19 active Bihar tenders from the PMC. Most of these tenders are for draining and UG work, construction of filing work, construction of around tree brick and painting work, and the construction of rainwater harvesting recharge pits.Public Health Engineering Department-The Public Health Engineering Department is another important part of the government which is currently running various rural drinking water programmes. This department is working to ensure that everybody has access to safe drinking water, clean water is supplied to different rural areas, and that sanitation and water supply sectors are reformed. Under this department, there are 6 active Bihar tender which you can apply to right now! Planning and Development Department Local Area Engineering Organization-The Planning and Development Department Local Area Engineering Organization works with a number of other boards to make sure that the entire state of Bihar is able to develop in a systematic and positive manner. If you are interested in applying to tenders that require the development of community centers and repairing house connections then they currently have 3 active tenders for you to apply to.Road Construction Department-As the name indicates, the Road Construction Department wishes to achieve its main objectives of planning and designing road networks that connect rural and urban areas effectively, to properly manage the build roads, and to provide constant management to roads and bridges. If this is something that you find interesting then apply to some of their floating tenders now! There are many other organizations that provide tenders in the state of Bihar. So, if you want to find more about them then head on to Bid Assist right now!
The AAI or the Airport Authority of India was founded first on the 1st of April, 1995, by an Act of Parliament. The National Airport Authority and International Airport Authority have been consolidated to create the Airport Authority of India. Finally, a single organization was consigned with a lot of responsibilities like planning, updating, maintaining, and regulating the entire system both on the ground and air space. The AAI operates a total of 137 airports, out of which there are 23 international airports, ten custom airports, and 104 domestic airports. Moreover, the authority also renders air navigation services to an ample air space. Within the year 2018 to 2019, the AAI handled aircraft movement, passengers, and the cargoes. Providing passenger facility is one of the most crucial functions of the authority as that encompasses the construction, modification, management of the passenger terminals, development and maintenance of the communication, navigation, and surveillance. The air navigation services include tuning with an international approach towards modernization. The AAI has always been working hard to execute their plan for the transition of satellite-based communication and air traffic management for which they took the initiative to substitute the traditional with the latest technology to enhance the standards of safety of airports in the air. Some of the other prominent actions taken by the AAI are Reduced Vertical Separation Minima, the GPS, or Geo Augmented Navigation (GAGAN) jointly with ISRO. The security environment has been strengthened with some vital installations, renewing the security guards, x-raying of luggage, and baggage checking at the airport to restore the passenger's confidence. Information technology also plays a significant role in executing operational, managerial tasks to ensure effectiveness, transparency, and employee productivity. However, the primary goal of the AAI is to be the framework of a permanent Indian aviation network that is capable of providing high quality, safe, and customer-oriented air navigation systems. This will help the authority to survive and boost up the economic growth of the areas that they serve. The AAI releases tenders to ensure continued developmental, implementation, and maintenance processes for both the international and domestic airports. The AAI tenders are published aiming to maintain the highest standards of excellence, which has a contemporary and robust infrastructure. This provides immense support in promoting air connectivity even at unserved and under-served airports. Anyone can have a look at the latest updates of AAI e-tenders on AAI's official website. But if you want to get notified on each release, then you can try out the BidAssistant app. This app is now one of the emerging apps where you can get access to unlimited tenders from around 7000 authorities from India. So if you want to get a chance to apply on several bids at a time and increase your chances to win, then log in to BidAssist and enjoy bidding.